You might remember I tried hosting the original Damasca here a while back. I stopped doing it for these reasons:
The world was too huge for the average playercount around here. It was three 16x8 overworlds!!
I never found a reliable host. People were interested, old players came back, but the server never stayed up.
At the time, client and server bugs meant many of the NPCs were old and busted.
So, in the interest of bringing in some old players and showing how a server should be made, I've come up with a new plan and I hope maybe someone can help out. Remember this map, that comes packed in with some older clients?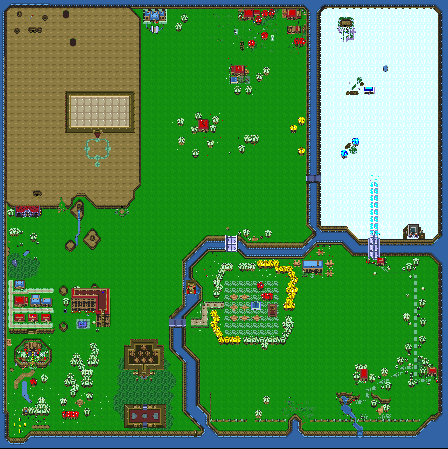 We stopped using these levels when we switched to the huge world, but I still have them. It's a nice, small 8x8 overworld with plenty of space, so I should be able to cram pretty much everything into it and have a new playable server in way less time than it would normally take.
But to make this really work, I need a host. LAT would be nice, but I can do most of it myself. Scripting is a spotty issue: particularly, I don't have any scripts archived for Kingdom Wars (conquering territory and keeping score), and a few features are so old they haven't been rewritten since 1.41!
If I can't get any assistance, I might have to give up, since nobody who worked on the original Damasca is still around to bother.
You guys might as well post if you're interested in this, or if you can help in any way. I'm not really going to impose a rigid staff structure here.