Servers are gone… no one is playing…
…Things are looking extremely grim…
Happens all the time. After being around for years I'm used to long amounts of inactivity.
That's why we have habitual sleepover on Bomber Arena. Idle all night long! Har har.
Sleep overs are the best! Can't wait for the second hour loop!
Whats going on at these sleepovers…
o.O cybering is icky…
The irony here is your signature.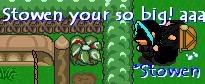 before you remove it.
o.O find the proof that it's me? :D:D
I'm not the one who needs proof.
Sam6420 walks in to the corner and begins to cry loudly
:l
We just idle. For ours on end. I've stayed online for a week and a half before.
You know what he meant.

This shit is getting gay!

YOU DID IT WRONG.

I DON'T GIVE A SHIT
You're stupid.